[:ro]For a few years now, I've been going to Italy at least once a year and I'm always impressed and surprised by what this country has to offer: history, culture, art, amazing landscapes, good weather and tasty food. This year I visited Tuscany, also considered as one of the most beautiful regions of Italy. For a perfect vacation in Tuscany, I recommend you to do the following:
1.Book a traditional stone villa, far away from the noisy cities. I warmly recommend the villa we booked.  San Lorenzo a Linari Resort  is a splendid historical location, in the green countryside of the province of Siena. Linari is located 15 minutes form the city of Siena. Originally built as a monastery in the 1200's, Linari was transformed into a noble residence. The apartments are furnished in a rustic style with antiques from the same period of the restoration.  During your stay you can also enjoy the beautiful outdoor pool, tennis courts and relax in the gardens.
2. Walk around medieval Siena, a city surrounded by vineyards and olive groves. The historic center of the city is part of the UNESCO World Heritage. The Piazza del Campo, this shell-shaped piazza, lies at the heart of the city and is the venue for a medieval horse race (Il Palio) that take place every year on July 2 and August 16.
3. Visit San Gimignano , a small walled medieval hill town in the province of Siena. It is also known as the Town of Fine Towers – there are 14 towers in these days, but there used to be as many as 72! They were built in medieval times by rich families to show their power and wealth. San Gimignano is also renowned for having the best ice cream in the whole world – the Dondoli ice cream!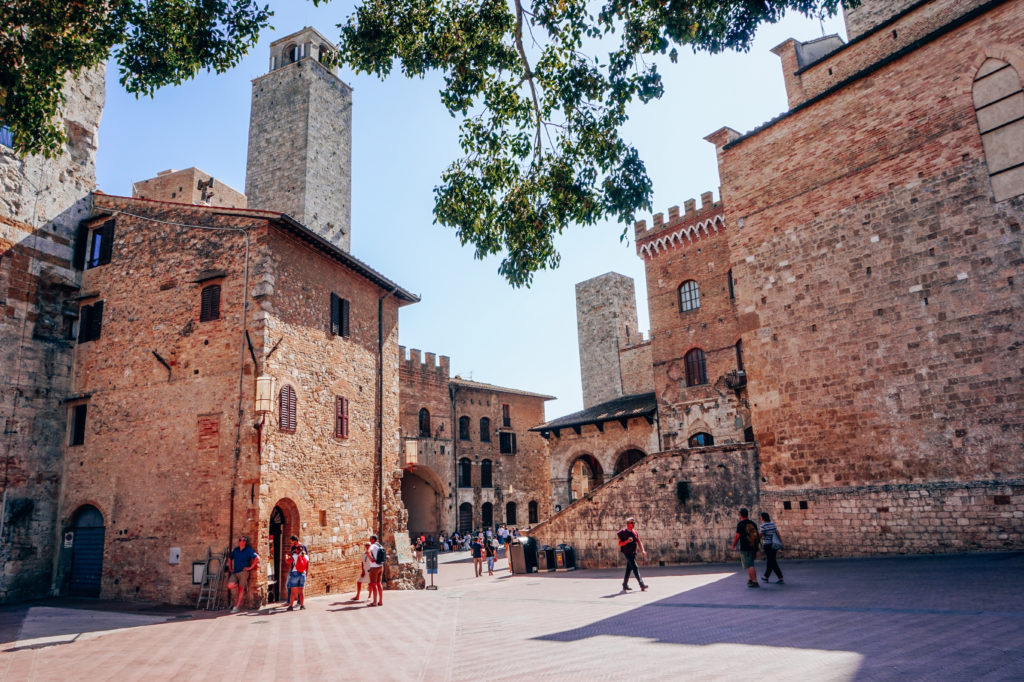 4. Tuscany is famous for its wines, especially the wines from the region of Chianti. There are several wine cellars that you can visit, but you should ask your host to recommend you the closest one (and the best one, of course).
Vineyards in Tuscany
Cheers!
5. Tuscan kitchen is not only about pizza and pasta, but also about fresh meat and vegetables. You should try the Fiorentina steak and their appetizers – mortadella, jambon, local cheese, fresh olives, tomatoes and home-made sauces.
6. When I think about Tuscany, the first image I see is with cypress hills perfectly aligned by the road. For the best landscapes, picturesque villages and villa houses, go to Val D'Orchia (Orchia Valley). It's the place where important scenes from the movie Gladiator were filmed.
7. Florence or Firenze, the capital of Tuscany, is the cultural center of Italy and perhaps of the Western world. Crammed with galleries, wonderful buildings and world-class art treasures, this city is a magnet for tourists!
8. Even if we didn't have time to do it, go see the leaning tower of Pisa. The tower started leaning 800 years ago but it has been stabilized. The tower should be an impressive start for your visit in Pisa.
9. Tuscany is the place to go for relaxation! Many villas have yoga classes or cooking classes. Make sure you do at least one.
10.Rent a car! Everything is spread out, so it's really hard or almost impossible to visit all these places without a car. Make sure you book it in advance, not from the airport where the prices are double or even triple.
Have an amazing time in Tuscany!
[:]
Comments
comments