[:ro]
Do you love adventure? Are you an adrenaline seeker? Do you love to swim in pristine water and fall asleep under the stars? Do you want to remember how simple life can be, when you are unplugged from all the modern gadgets and city-life comforts?
If your answer is yes, I invite you to join me (virtually) in one of the most memorable, but difficult travel experiences in my life: a 3-day boat expedition in Palawan, Philippines.
Our home for 3 days
What is a 3-day boat expedition?
The 3-day boat expedition is a tour designed for the people who want to get off the beaten tracks and are looking for unexplored places, adventure and adrenaline. You can do this tour either from El Nido to Coron, or from Coron to El Nido. It lasts either 2 days, 3 nights (2N3D) or 4 nights, 5 days (4N5D). There has been only one enterprise, Tao Philippines, doing these expeditions for many years, so the price went up quite a bit.
Thankfully, there a few others now, that you can choose from. We decided to do the expedition with El Nido Paradise. It fitted perfectly in our itinerary and it was also cheaper than Tao. We contacted them from Romania, sent an advance payment and confirmed our seats. In case of bad weather, they would reimburse the money. We chose the 2N3D tour and paid 250 EUR, in comparison to 425 EUR for Tao. I personally recommend the 2N3D tour. I think five days might be too much, if you are not used to camping and/or life outdoorsy-type activities.
The itinerary
It is not a cheap tour, but keep in mind that it covers everything:
Transportation El Nido – Coron
Transportation with the tricycle to El Nido harbour
Accommodation for 2 nights (first night in a bamboo house, second night in a tent)
3 meals per days and snacks
Beverages (unlimited water, beer and rhum)
Entertainment (karaoke, fire dancer, bonfire)

The staff was very kind, attentive and friendly
Bye, bye, El Nido
Saturday, November 23, 2018, 8:00 am. We meet the group in front of El Nido Paradise. Jayar, the team leader, calls everyone on his/her name, reads the rules and prepare us for the trip. We head to the harbour from where we jump in kayaks that take us to the boat. We are finally onboard with another 25-30 foreigners from all around the world.
Surprise: the wooden boat had no GPS, no high tech cockpit. Our captain had a compass and that was all. A single small compass. As if it could help him avoid shallow water, tricky currents and unseen depth…and it did! We trusted him the whole time. The rest of the boys were grounded, strong, alert and made us feel safe at all times.
Life on a boat. Life on an island.
During the whole trip, I was simply amazed! We explored countless palm-covered islands, we relaxed on virgin beaches and swam in surreal blue water. We snorkeled and admired stunning coral gardens and even a Japanese shipwreck near Coron.
Surreal water!
On the way to the beach
Hi, Nemo, is that you?
On the first night, we slept on a deserted island, inhabited by a small family with three kids. Surprinsingly, even the youngest who was only seven (he seemed four or five) spoke English. He managed to tell us how his father was taking him to the nearest school every morning. And that wasn't close at all, it was on a different island! Sometimes, the boys used to wake up to help their father fishing. It was a touching moment to meet villagers and learn more about their simple and hard life, the sacrifices they make and the strong family bond.
Once on the beach, we installed ourselved in small bamboo houses. All we had was a mattress and a mosquito net to protect us. There was no phone network, no electricity, no proper shower, not the toilets that we are used to, but this was honestly the best part of the experience. It was just a reminder that we were on a paradisiac remote island!
After an unbelievable dinner with fish, sea food, rice, fresh fruits, we did a bonfire, watched a fire dance, sang international songs at karaoke, drank Filipino rhum, flossed with the village kids and danced in the water, under spectacular skies of full moon and starry nights. Nights were heaven. Moments that I will always treasure!
Meet Enzo!
Next morning we had a delicious breakfast with omelette, fried eggs, American pancakes with syrup, toast and jam. And then we got ready for a new day. The sea was angry and we were constantly hit by big waves. The boat was packed, so it was hard to find a place to hide from the sun, to lay down or to avoid getting wet. However, we laughed a lot, said jokes, played cards and I also spent some time with the crew, trying to learn Filipino words.
We visited secluded places and we admired the pure beauty of the Philippines : idyllic islands, luxuriant vegetation and stunning landscapes.
We spent the second night on a different wild island. We gathered around the campfire, shared stories, laughed hard and then, we simply enjoyed the silence. I was lying with my friend on the moon and star lit beach, listening to the waves and talking about us, our friendship, our lives. The breeze, the full moon, the night sky, it was bliss.
The second day we left to Coron and I could not believe how much I lived in the last two days. I was lying down on the boat, looking at the clear blue sky and enjoying this peace of mind that I can only find in my travels.
Is this tour for everyone?
The answer is definitely NO. During the three days away from civilisation, I learnt what my limits are. I was tired, sunburnt, bitten by mosquitos, I was missing the land, a hot shower, a proper toilet, a comfortable bed, AC, but nevertheless, this was the best experience of my "traveler" life. It was not only about views and adventures, but also about the people and the crew that added soul to our expedition.
It Was Incredible! A stunning and unforgettable experience that I truly recommend!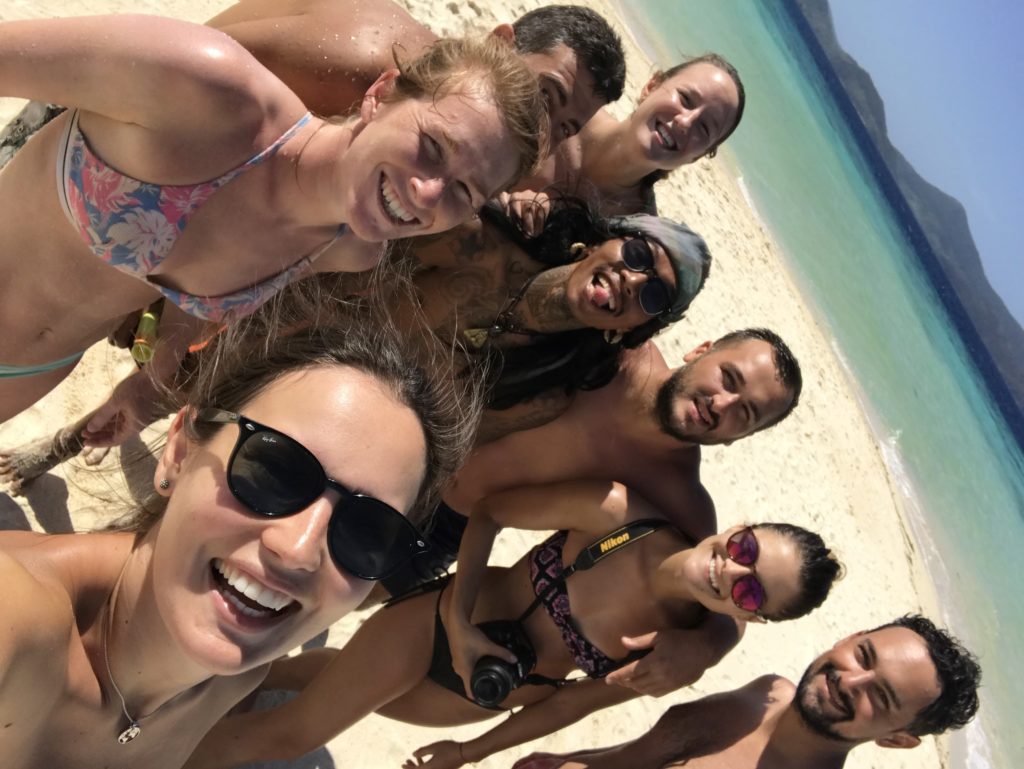 Tips & Tricks : 
Take with you an ocean bag. You can find it everywhere in El Nido or Coron. .
The big luggage goes under the boat, so prepare a small bag with all you need in the three days. Don't pack too much!
Don't leave without sunscreen, mosquito spray, hand sanitizer, wet tissues, a hat and sun glasses. You will need them.
A flashlight can be very useful.
Batteries for your camera.
External charger for the phone
Photos:
Tent / bungalow
This scenery…
Our activities
Cuteness overload!
At sunset
[:]
Comments
comments