[:ro]
I visited Cambodia in 2015, in a one-month trip in South-East Asia. On December 25, we took the bus from Mo Chit bus station in Bangkok, Thailand to Siem Reap, Cambodia. The trip took around 6 to 7 hours driving time. We stopped at the border and got the visa in only 10 minutes, because we had to bribe the police (they asked for extra 5$/person). After receiving the money, they moved very fast and stamped our passports in a blink of an eye. Two hours later, the bus dropped us in the center of Siem Reap. We asked a tuk-tuk driver to help us find a guesthouse in town. In less than one hour, we found a nice and clean guesthouse, close to the city center, took a shower, changed our clothes and went out to celebrate Christmas.
Getting ready for NYE 2015-2016
Siem Reap
Siem Reap is the gateway to Angkor Wat, the millenium-old temple ruins of the Khmer Empire. Set along the Siem Reap River, this small provincial capital boasts hundreds of sightseeing opportunities such as well-preserved colonial buildings, museums, traditional markets, and cultural performances. We were lucky to witness a religious ceremony that involved many Buddhist monks and locals carrying offerings.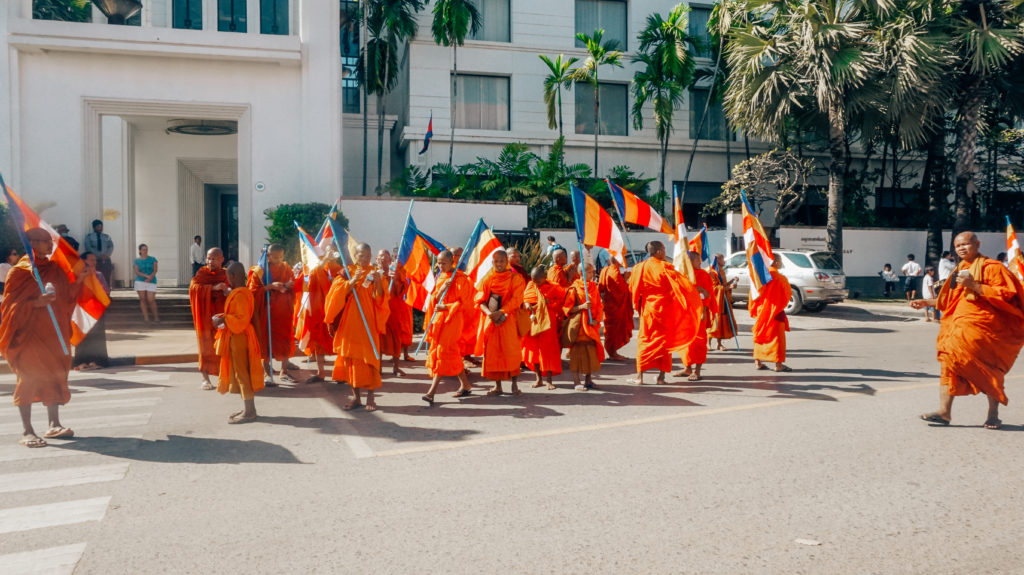 In Siem Reap we tried all the crazy dishes we found on the street and in restaurants: snake, crocodile, ostrich. We wanted to learn more about the Khmer cuisine and signed up in a cooking class at Paper Tiger. We started with a short trip to a nearby market and returned to the class, with the other students. The teacher explained everything in great detail and demonstrated how to make each dish – we chose one starter, one main dish and the dessert was on the house. It was a very nice experience that I would love to try in some other cities as well.
Local market…doesn't look great, I know
Fresh fruit and vegetables

The chef
Final dishes
Angkor Wat
Many people travel to Asia only to visit Angkor Wat, the largest religious monument in the world. Angkor Wat is situated 6km away from Siem Reap and is spread on 163 ha. It was originally built in the first half of the 12th century as a Hindu temple but turned into an enormous Buddhist temple complex at the end of the same century.  Its name translates to "temple city" in the Khmer language of the region.
Made it to Angkor Wat!
Famous view of Angkor Wat temple
The landmark welcomes around 500,000 visitors each year—many of whom arrive early in the morning to be part of a very magical and spiritual experience. We decided to do the same and rented some bikes from Siem Reap one day before traveling to Angkor Wat. The issue was the bikes we chose were very basic and it was very exhausting getting to the complex and then, going from one temple to another. I wouldn't recommend traveling by bike at all – book a driver, a tuk-tuk or a scooter, if you plan to visit Angkor Wat.
Still fresh, in the morning
The crowds at sunrise
There are 72 major temples within this area, and the remains of several hundred additional minor temple sites are scattered throughout the landscape. The most famous temples are Angkor Wat, Bayon in the ancient city of Angkor Thom and Ta Phrom where the  the movie Tomb Raider, with Angelina Jolie as Lara Croft, was shot.
Angkor Wat temple
The entrance to Bayon temple
Iconic image – Bayon temple
Ta Phrom, seen from outside
Ta Phrom, simply amazing
Can you spot the face?
Angkor Wat is billed as the eighth wonder of the world and is now one of the most enduring architectural achievements in the world. In 1992, Angkor Wat was named a UNESCO World Heritage site. If you are passionate about history, arhcitecture, one day won't be enough for you, but you can buy a 3-day or even a 7-day ticket. You will love it!
[:]
Comments
comments