[:ro]
After a three-day adventure on the water, in a traditional boat, without phone, network, electricity, with nights spent in bamboo bungalows and tents, with buckets of cold water instead of showers, we were waiting so badly to take a hot shower and sleep in clean sheets. Once arrived in Coron, we took a tuk-tuk to Hop Hostel, situated on top of a hill. From outside, it looked like a Greek house, not at all the Filipino style that we were used to. We booked a quadruple room with a shared bathroom and paid 220 euro for the whole room, for 3 nights, which means less than 20 euro/ person/night.
The restroom was next to our room and we didn't see anyone using it, so this didn't bother us at all that it was shared. This hostel was my favorite among all the hostels I have stayed at. It was definitely something I had never seen before with multiple common areas, including a Cinema Room. The beds were all king sized and super comfortable! All in all, the hostel exceeded our expectations and we finished the vacation in a great way: rooftop parties, cocktails,  sunsets to die for, board games, evenings with beer pong and flip the cups spent with other tourists and expats. After three days spent at Hop Hostel, I definitely recommend it, if you are traveling to Coron, especially if you're interested and willing to meet other travelers.
The way to the hostel
Our daily view
Coron is the third-largest island in the Calamian Islands in northern Palawan.  The island is part of the larger municipality of the same name. It looks a little bit like El Nido, but I found it less touristy. After a day of wandering in the city and seeing their simple houses, most of them built on the water, it was heartbreaking to realize the poverty they face.  Nevertheless, like everywhere in Asia, the people were very friendly, honest, smiling and waving at us all the time.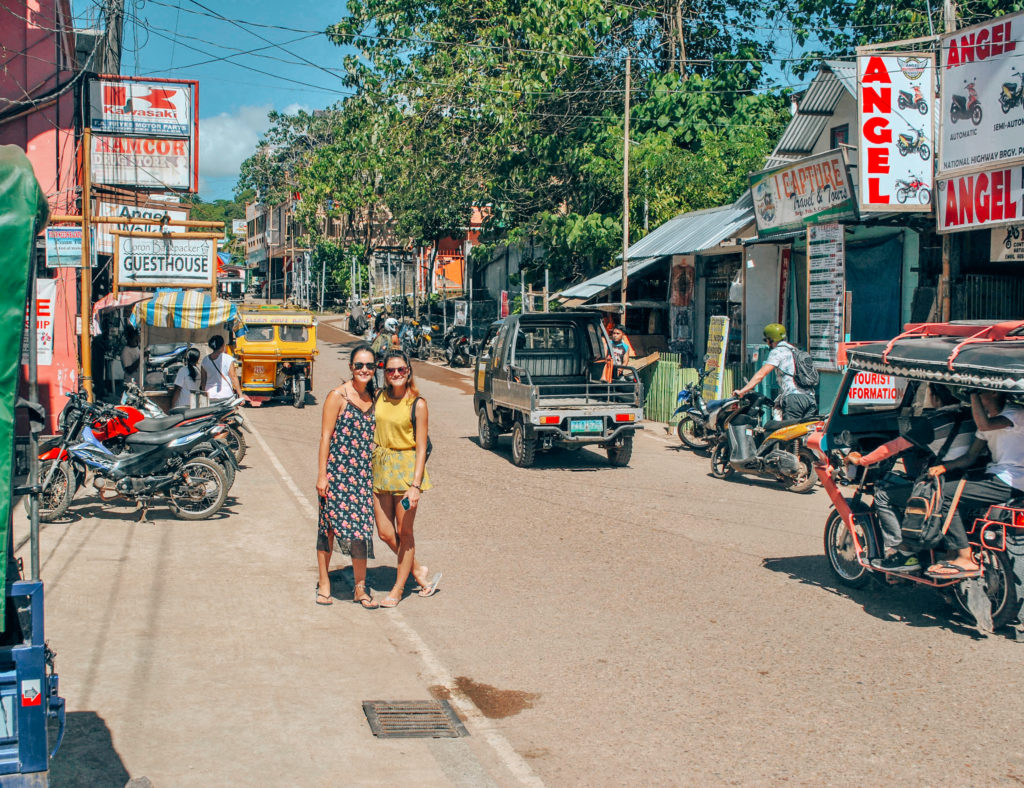 Main street in Coron
Kids going to school
Top things to do in Coron 
Diving 
Coron is one of the best destinations for snorkeling and diving. The vegetation and fauna are so reach that you can't get bored in the water. The main attractions for divers are the several WWII Japanese wrecks that lie within diving depth.
Private boat tour  
Even if it's more expensive than a regular boat tour, it was a smart decision to rent a boat just for the four of us. One of the boys took us to the local market in the morning, where we shopped local food (fish, sea food, fruits, salad) and drinks for lunch. While we were tanning on a beach, the boys cooked us a delicious meal. I would recommend anyone renting a private boat because you have more freedom and more control on how long you want to stay at each place. Don't go on a standard tour unless you want to see orange colour everywhere you tun.
We paid 2500 php (43 euro) to rent the boat. In comparison to the standard tour where you have the lunch and the entrance fees included, we had to pay for them separately. Every entrance was between 150 and 300 php (2.5-5 euro). The regular tour costed 1000 php (in November 2018), while we paid a total of 1500 php (25 euro) for our tour. Totally worth it!
Hard way to get in
Smith Beach
Not many tour boats come to this island, so it is a great spot to ask a private tour to visit. We had the beach basically to ourselves. The beach is small, secluded, but it has a gorgeous view. It is already prepared with tables for lunch – nice way to welcome your tourists.
Kayangan lake 
Kayangan lake is a crystal clear freshwater lake with unbelievable underwater rock formations and views, which make it one of the most incredible sites in Coron. One of the most iconic pictures from the Philippines is taken right here. In the picture you can see Coron bay, Kayangan lake being on the other side of the hill (see below). You have to wear a life jacket if you want to swim in the water.
The iconic picture
Unbelievably clear water
Barracuda lake
Not far away from Kayangan lake stays Barracuda lake. We made a short stop on our way from El Nido to Coron. The water is amazingly clear and the place is less touristy than its "bigger brother". The crazy part about this lake is that it's very deep and free divers are allowed to dive here. Don't do it if you're not an expert! The entrance fee is 150 php (3 euro).
Twin Lagoons
This place is very peaceful and serene. There are two lagoons, separated by a limestone but there's a cave that connects them and that you can swim through during low tide. When the high tide hits, you have to cross a bridge to get to the second lagoon. The water can go from hot to cold in just a couple of seconds.
Tapyas mountain
Mount Tapyas is the most popular viewpoint in Coron. It is the perfect sunset spot near the town center, but keep in mind that you have 721 stairs to get the top. The top of the hill is marked by a big cross and the name Coron, spelled out with big letters.
Sunsets and rooftop parties
The sunsets in Coron are a thing to die for! They will leave you speechless and if you're not in a good shape to go on top of Mount Tapyas, make sure you check them from a rooftop. There's a hill in the town, where many guesthouses and hostels were built, such as Hop Hostel. They offer a great panorama over the bay and the city. Plan your visit when the hostel organizes a rooftop party.
How to get to Coron?
There are direct flights Manila – Coron, operated by Cebu and Jetflight. If you're planning to visit the rest of the province of Palawan before, there's three options to travel from El Nido to Coron:
Plane (40min): AirSwift flies four times per week from El Nido to Coron
Ferry (4h): There are several companies that go on the route El Nido – Coron. You can choose the fast ferry (3-4h) that costs 32 euro (more info here) or the classic ferry (5-9h) that costs 25 euro. You can buy your tickets on the spot, when you're in El Nido.
Boat tour: if you're the adventurous type, don't think too much and book this tour. It's not cheap at all but it's definitely worth the money. And trust me, it will be the highlight of your trip!
Coron, you will always have a special place in my heart!
Pictures:
Twin Lagoons
[:]
Comments
comments