[:ro]
The Filipino island Palawan was voted for 2 years in a row "the best island in the world" by the readers of the famous American magazine Travel & Leisure. I have so far written about the hidden paradise Port Barton, and now it's time to talk about the most popular destination on the island: El Nido. El Nido gained a massive worldwide attention for its white beaches, towering limestone cliffs, scenic mountains, amazing wildlife, enchanting lagoons and rich coral ecosystem.
How to get to El Nido 
During our stay in Palawan, we decided to travel from south to north. After 3 heavenly days spent in Port Barton, we were ready to head to El Nido. We didn't make any bus reservation, but our host from Port Barton took care of everything. For 650 PHP (11 euro)/person, he arranged 4 seats in a van leaving at 8 am from Port Barton. The price is the same, no matter where you buy the tickets from. The van was so packed that the boys had to share a bench with another 2 persons and we, the girls, stayed next to the driver. There were no seat belts and I really needed one for that 4-hour bumpy journey. In the end, we made it safe and sound in El Nido!
Accommodation 
We booked 2 rooms at Inngo Tourist INN, located in the center, close to everything in town. Each room had a terrace, bathroom, wi-fi and we paid around 15 EUR/nigh/person. If you don't want to book in advance, don't worry, you'll find a lot of options when you get there.
About El Nido
El Nido is a real estate paradise for foreign investors who reshaped the surroundings of  the city in an occidental way. The foreign direct investments increased in the last years and the local charm has diminished. The traditional wooden houses were replaced by multi-storey concrete buildings. Nevertheless, El Nido remains a magnet for tourists and we enjoyed it a lot. It is a place full of restaurants, bars with live music, fresh smoothies amd juices  and some of the best beaches and lagoons on the island.
We reached El Nido at the same time with a typhoon…that's how lucky we were! Fortunately it wasn't as bad as we thought. It rained during the first day, but that didn't stop us to discover the town. We put our raincoats on and wandered on the streets. Good music was coming from all the bars from the main street. It was hard to choose one where to stay, but we found the prettiest one, called Happiness Bar. It had swings, good music, happy hour and an amazing pineapple daiquiri.
Typhoon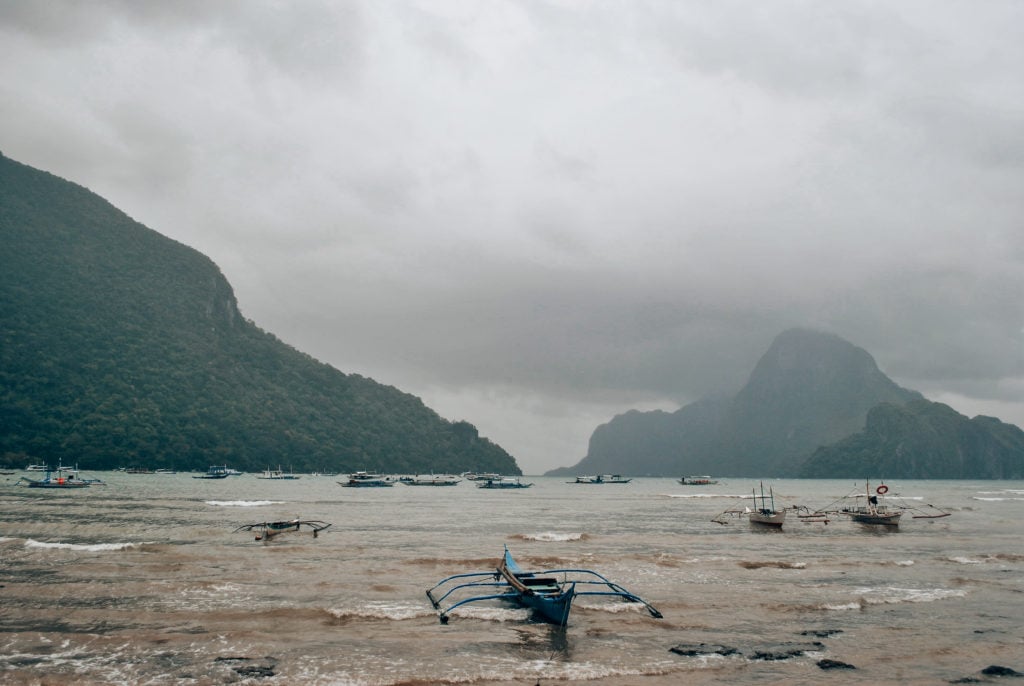 Still beautiful
Tropical forest and rain – amazing combination
Happiness Bar
We didn't know how long a typhoon lasts, so we didn't make any plans for the next day. We woke up pretty late, had a rich breakfast in town, did some shopping and relaxed on the local beach. A good part of the beach works as a harbour, but a little bit further, we found a place where we could lay the towels down and read a book.

Boat tours 
The main attraction in El Nido is a boat tour. You can choose between the tours A, B, C, D or you can combine two. Most people recommend A + C. The boat tours start in the morning and last until the afternoon. They have a pre-established itinerary and all of them include lagoons, coral reef and beautiful beaches. The prices for the tours are the same no matter the agency where you book them. Because of the typhoon, we had only one day left in El Nido and we decided to spend it on the beach instead of doing a boat tour. If you want to do a tour, you can also rent a personal boat, leave early enough so that you have the places all for yourself, not surrounded by the tourists.
Nacpan Beach 
Because we were going to spend 3 days on a boat, in an expedition tour from El Nido to Coron, we decided to spend the last day in El Nido on the beach. Our choice was Nacpan Beach, one of the most beautiful beaches on the island. If you have an adventurous spirit, you can get there by motorbike. If you don't want to risk, you can rent a tricycle for the entire day. After a typhoon, this is the best option as you can easily get stuck in the mud on your way to the beach. The price for the tricycle is 600 PHP (10 EUR) /person.
When you get to the beach, you pay an entrance fee of 1 EUR that is used for its conservation. Once you pay it, they insert your name in a database and whenever you return, they can look you up. At least that's what they told us. Moreover, you'll have a free drink included in that price. Pretty cheap, isn't it?
Nacpan Beach has the finest and whitest sand possible! The water is so blindingly blue that it makes all the other seas look boring. It is a quiet beach, where you can relax, swim, read and sunbathe.
The beach wasn't crowded at all when we got there. It was easy to find a table in one of the restaurants and bars and also to book long chairs. If you want to have some fun, head to the beach-style hostel Mad Monkey, completed with a restaurant and a beach bar. As everywhere in the Philippines, the music was amazing!
At the end of the beach, we discovered a fishing village. Chickens, pigs, kids playing with tyres, laundry, cats sleeping in the shade, a mother braiding her daughters' hair, fishing boats aligned in front of the cottages – everything looked like a different world than the rest of the beach!
Las Cabanas
Even though Las Cabanas Beach has not the same white sand and clear water as Nacpan, the views are magnificient! It was our last stop before heading back to El Nido and we made it in time for the sunset. Be warned – the sunsets are simply amazing. They'll ruin you for life!
Las Cabanas Beach started hosting Full Moon Parties, just like the ones in Koh Phangan. It was full moon when we were there, but the party didn't take place because of some governmental decisions.
What and where to eat
We tried different traditional dishes and some delicious fresh fruits. My recommendations would be :
Breakfast and fresh pineapple juice at Template
Fresh fruit salad (pineapple, mango, coconut, watermelon) with yoghurt, oats, chia across the ATM on the main street
Sizzling crocodile, traditional dish, at the bar with live music, across Pukka Bar. That's the place where we met two acquaintances from Cluj and partied hard.
Pineapple Daiquiri at Happiness Bar
Warning: There is a problem in El Nido with contaminated water. Try to use only bottled water, even for washing your teeth. 
We decided not to drink any water in El Nido, but this decision lasted exactly 3-4 hours until we went to the first bar and had a cocktail with ice. Then we tried different things with water in them and didn't feel sick at all. Maybe we were just lucky, you'd better pay attention.
Another useful info : there are two ATMs in the town, but the exchange rate is not the best one. You'd better change your money in Manila or Puerto Princesa.
Putting everything in a nutshell, El Nido is a tropical paradise where you can relax, swim, go on a water aventure and have fun in a bar with live music.
Photos :
Party people

El Nido
Faces of Palawan I
Faces of Palawan II
Las Cabanas
Nacpan Beach
[:]
Comments
comments