[:ro]
We keep hearing about how beautiful Cluj is, with its lively streets, well-knows music and film festivals, modern restaurants and friendly people. But today I invite you to discover some of the best less known places that most tourists never see.
Astronomical Observatory 
Have you ever wondered where the Observatorului (Observatory) Street got its name from? In the 20's-30's, the Astronomical Observatory of Cluj was built on the site of the current Sigma center, located on Observatorului Street. In the 70's the Observatory was moved to Cireșilor Street, near the Botanical Garden. In addition to seminars, classes, labs, research studies, the Observatory opens its gate every Friday for anyone. A visit lasts 2 hours and has a theoretical part where you learn about celestial bodies and a practical part where you can really see some of them. The ticket is 10 RON (2 EUR).
Aquarium from "USAMV"
The University of Agricultural Sciences and Veterinary Medicine (in Romanian USAMV) opened in 2003 an aquarium. It is located in USAMV parks and consists of 14 fish tanks with local and exotic fish and some turtles as well. The entrance fee is 3 RON for adults, 2 RON for children.
Matei Corvin's house 
Matei Corvin's house doesn't need any presentations anymore – the locals know it, but all the tourists coming to Cluj stop by and want to hear its story and take a picture in front of it. Last week I was lucky enough to be part of a city guided tour (if you're interested in doing one, I totally recommend you my guide Cristi – phone no. +4 0724 042 975) and found out so many interesting stories that I would need an entire notebook to put everything down. I will keep this short and will tell you some interesting facts about this house.
First one : this is the home of the Hungarian king  Matia Corvin (in Romanian, Matei Corvin) who was very privileged and didn't have to pay any taxes for the house. After the house had been sold, disputes related to this privilege appeared. It was finally decided to keep the tax exemption, no matter who the owner was. If you look carefully at the house, you will notice the old building with the old gate and two new wings "glued" to the old house. The difference is the most visible at the windows – the newer ones are built higher than the old ones. And you can imagine why they "glued" two other wings – to benefit from the tax exemption!
Second one: the building currently belongs to the University of Arts and Design. During summer, if you want to escape the fuss from Piața Muzeului, ask the doorman to let you in the indoor garden. I don't guarantee he will do it, but you can give it a try!
Can you spot the difference when you look at the windows?
End of the airport runway
I heard and I also saw some pictures from this place, where you can lay down and watch the planes take off. I didn't know exactly where it was, but after writing this article in Romanian, a friend told me I should go to Elicei Street. Well, there's a new thing on my must-do list for this spring.
Tower of St. Michael's Church
A few years ago, I was told you could climb the tower of St. Michael's church from Unirii Square. There's no price, no official information, but if you go inside the church, there's always a man selling religious objects. Ask him to take you to the tower and he'll do it for just 5 lei, or at least that's what I paid 8 years ago. When you want to go down, you just need to call him and he'll be there in one minute. The church is under renovation and will be reopened in 2021.
That's me in the church's tower in 2012
BLU coffee
After a day of walking around the city, a break is more than welcomed! On Horea Street, no. 54, you will find a small coffee place, called BLU Coffee that was recently opened by three young people. BLU Coffee is not just a place where you can drink a cup of coffee, but also an artisan coffee roastery that focuses on quality. The coffee is imported from famous regions, such as Rwanda, Ethiopia, Guatemala and are freshly roasted, right in front of you. You can order coffee bags from the coffee shop or online here. As I try to promote the local businesses, the guys gave me a discount code for all the coffee lovers. If you order online from their website, you will get a 15% discount with the code borderless15.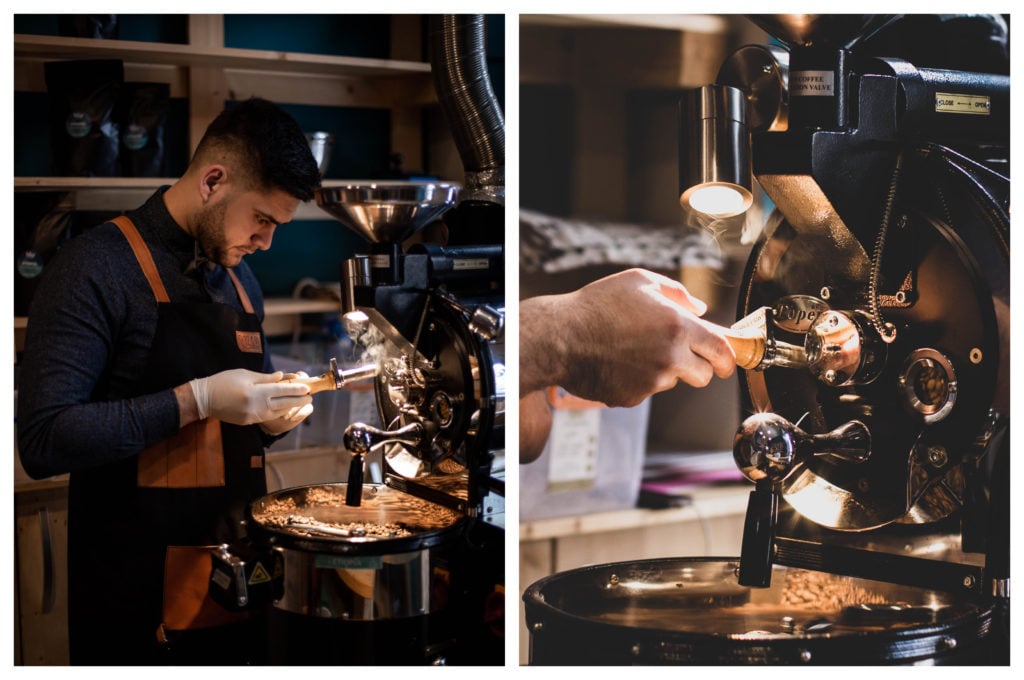 Ceramic Cafe
A unique place that stimulates your creativity and dexterity has just opened.  Ceramic Cafe is a paint-your-own-pottery, while enjoying a hot beverage. You can take your masterpiece home, after 24 hours – it requires some time to dry.
Copyright : Facebook page
Flight simulator
Where do you think you can find the first and only professional flight simulator in Romania? The answer is simple – in Cluj Napoca, in Viva City building, near Iulius Mall. The simulator Flight X was opened in the summer of 2017 and reproduces the flight deck of an Airbus A 320. The only difference between Flight X and the real flight conditions is the movement, the simulator being static. But the 3D images make you think you're flying, or at least that's how I felt. There's several types of flights – we did a small tour over New York that lasted 30 minutes and costed 189 RON. For reservations and payment go here.
Shooting center
After a stressful week at work, all you need is to relax. One of the most efficient ways is to unload a gun! At the shooting center you can do it, even if you don't own a weapon license or knowledge in the field. Schedule and prices here.
Enjoy Cluj to the fullest![:]
Comments
comments