[:ro]
I think most travelers who decide to visit Bali also plan to make a short stop in Singapore. And that's the best decision one can take! The flights between the two are very frequent and cheap, so why not give it a try?
Plane ticket 
We flew out from Budapest, Hungary. We looked for plane tickets for the month of November and found a very good deal on SkyScanner. We flew AirChina from Budapest to Singapore, via Beijing, and paid 360 euro from. We then flew Jetstar from Singapore to Bali and paid 100 euro for the ticket.
Singapore
Visa
In both countries, the visa for Romanian citizens is free. All you have to do is to fill out a form when you land and go through the immigration desk.
Best time to visit Singapore and Indonesia
This is a never-ending topic when it comes down to Asia. The weather is unpredictable and trust me, forget the weather apps on your phone – they're almost always wrong. Normally, the peak season for Bali – the dry season, with good weather, no rain – is between July and August. The rainy season should start in October, but in the recent years October and November have been very sunny. We risked and chose to visit Bali in November, when the rainy season should already be "installed". We were very lucky and didn't experience the rain at all. We had hot weather, high temperatures (around 30 degrees C every day) and warm water. It was so hot and humid that we were really missing a short summer rain! Even though Bali can be visited almost anytime, I would  personally avoid going between January and March when the chances to rain are considerably higher than for the rest of the year.
As for Singapore, this is a good year-round destination. We had 30 degrees Celsius every day and a short summer rain in our last day.
Ubud, Bali
Itinerary 
We decided to split our stay in Singapore – two days at the beginning and two days before flying out home. As for Bali, we split the days as it follows:
Ubud: 3 days – cultural heart of Bali, renowned for arts, crafts, beautiful landscapes, nature, rice fields, coffee plantations, monkey forest, temples and yoga centers
Nusa Penida: 2 days – Nusa Penida is a relatively undeveloped island south-east of mainland Bali. You won't find the trendy lifestyle from Bali here, but you get to experience the authentic and simple way the Indonesian people live.
Seminyak: 5 days – we decided to end our vacation on the beach and relax after so many sightseeing and trips. Seminyak is Bali's most stylish and upscale beach resort area, with  restaurants, bars, shops, places with live music, a long beach and perfect conditions for surfing.
Transportation  
Singapore
From the airport, we took a local metered taxi. AVOID the white Mercedes taxis! Remember to ask every time if they are luxurious or regular taxis.
From what I've heard, the subway system is the easiest, quickest and most comfortable way to get around Singapore. But, as we were four, it was very cheap to share a taxi and we traveled only by Gojek and Grab (the correspondent of Uber/Bolt) that have very good prices.
Bali
Denpasar – Ubud
We talked to our first villa contact from Ubud and booked a shuttle from the airport to the villa. We paid 40oK IDR (25 euro) for four persons. In Ubud, we traveled only by taxi that was approximately 80k IDR (5 euro) / trip. We found a very nice driver, Deni, who gave us a tour in Ubud and its surroundings. It was 500k IDR (32 euro) for four persons. In order to promote the local tourism and businesses, Ubud forbid Uber, Grab, Gojek, because of the high number of foreigners who keep moving to Bali and decide to become drivers.
Our driver, Deni
Ubud –  Sanur harbour (departure to Nusa Penida)
Deni took us to Sanur harbour, which is the departing point for Nusa Penida, from where we took a fast boat to Nusa Penida. The ride costed 200k IDR (13 euro) for the group.
Bali – Nusa Penida 
There are two ways to travel from Bali to Nusa Penida
public ferry: this ferry seems to be a mystery! We kept hearing and reading about it, but no one gave us precise information. All I know is that it lasts many hours, around four if I remember correctly, and costs 90k IDR both-ways (6 euro).  It leaves only once per day, but I don't know from where. 🙁
fast boat – there are many companies that leave from Sanur to Nusa Penisa. You can book the tickets directly in the harbour or you can talk to your villa/hotel contact and they arrange it for you. Deni booked four seats for us and we paid 350k IDR (22 euro) / person both-ways. The ride lasts less than one hour. We left Bali at 8:00 and left Nusa Penida at 14:00. As they are very frequent, you'll find the time that suits you the best!

Nusa Penida
From the harbour in Nusa Penisa, we booked a shuttle to our villa that costed 150k IDR (10 euro), 300K IDR both-ways (20 euro). We wanted to rent scooters, but the state of the roads is so bad that we didn't dare to do it. We decided to rent a driver who drove us around the island. The tours were more expensive than in Bali. One day we paid 800k IDR (51 euro) and the next day we paid around 600K IDR (39 euro).

The sign hanging on the mirror…
Sanur harbour – Seminyak
As I mentioned below, we took the fast boat from Nusa Penisa to Sanur harbour. We didn't book anything in advance, but we found a driver to give us a ride to Seminyak. We negociated and paid 300K IDR (20 euro) for the whole group.
Seminyak
In Seminyak we walked a lot and when we wanted to visit other cities nearby, such as Canggu, we took a Gojek or Grab. Same when we wanted to go to the aeroport: we took a Grab. The prices are much better than the local taxis'.
Seminyak
Accommodation
When it comes to accommodation, we like to book everything in advance and don't stress out while we're there.
Singapore
In the first two days, we stayed in a hostel in Chinatown that I don't recommend. When traveling back, we booked a quadruple room at Hotel Boss – we paid 100 euro/night for the room. It would have been the same price if we had decided to book two double rooms, but we preferred to stay together. I liked the location of the hotel, the pool and the possibility of leaving the luggage at the hotel after check-out.
Price: 100 euro for a quadruple room for one night
Ubud
We booked a villa, Bamboo Sari, with two bedrooms, outdoor pool, located at a five-minute-car drive from the city center. Surrounded by lush tropical greenery, the villa features a terrace with a sofa, a full kitchen with a refrigerator and a dining table.  The garden view was very nice.
Some inconveniences: they were building another villa next to this one, so the mornings were very noisy. We had AC downstairs, but only a fan upstairs and it was quite hot and noisy at night. We had only one bathroom. Walking to the city was kind of impossible because of the roads, so we had to take a taxi every day.
Advantages: free food and drinks delivery
Price: 154 euro for the whole villa for 3 nights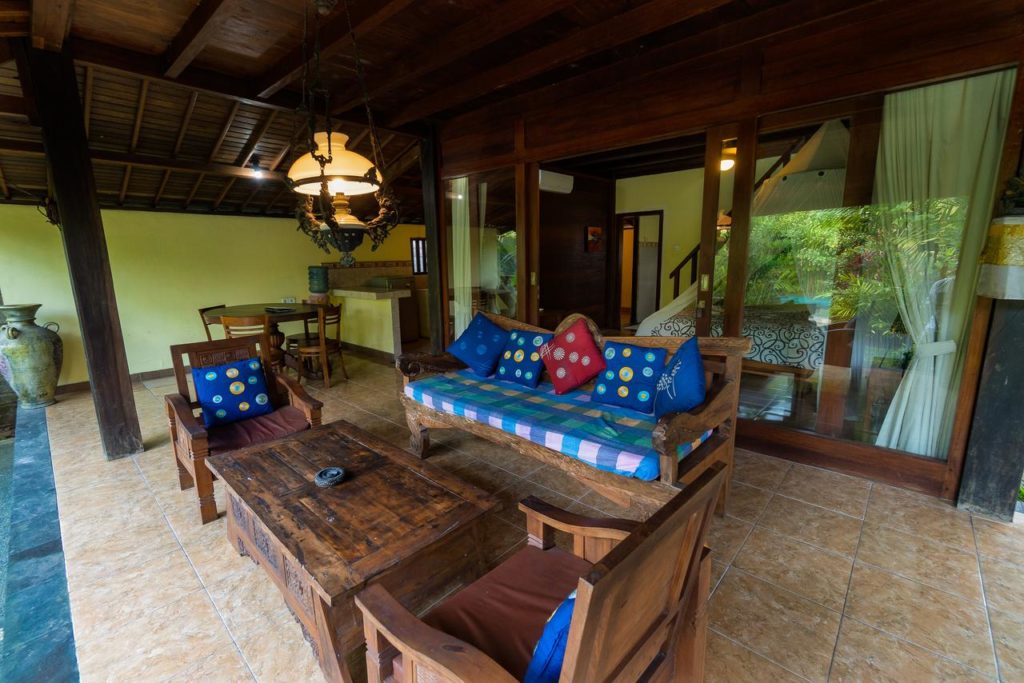 Nusa Penida
Nusa Penida is an under developed island located close to Bali, with less tourists and without a proper center with villas, restaurants, bars. We booked a villa on top of a hill and we definitely needed a scooter or a car to drive around the island. Sunrise Penida Hill. is like a mini-complex with several villas, a restaurant, an outdoor swimming pool and air-conditioned accommodation with a patio and free WiFi. The pool was simply amazing, especially at night.
Price: 94 euro for two double rooms for two nights
Seminyak
We booked two rooms at Grandmas Plus Hotel, just a 2-minute walk from Seminyak Beach.  Grandmas Seminyak Hotel is surrounded by the shops, restaurants and nightlife of Seminyak. More than this, they have their own restaurant with live music and a pool.
Price: 214 euro for two rooms for four nights
Money
In Singapore I paid almost everything with Revolut. I exchanged some money at the airport – for the taxis (they have a 3% tax if you pay by card) and for Chinatown (food, shopping) where you can't pay by card.
In Bali we exchanged money in several places. In Nusa Penida the exchange rate was really bad, I would recommend to change your money in Bali, in the big cities. We were surprised to find in Seminyak some exchange rates that were even better than the rates shown on Google (I still can't explain myself this)! Anyways, keep in mind to exchange only at authorized places. In Bali you can pay by card for accommodation, meals in restaurants or drinks in bars.
Taxes
We paid taxes in both Singapore and Bali: 10% tax + 5% or 7% for the service fee
Tips
It is common to tip and it is also well received, especially in Bali.
Potato Beach – Seminyak
English
In Singapore, English is considered an official languages. All the signs and movies are in English and everyone speaks English. In Bali most of the people working in tourism speak basic English.
Food
In Singapore, if you want to eat in restaurants, be prepared to pay a lot of money. If you travel low cost, target the local restaurants, especially the traditional ones with decent prices – around 8 euro for a dish. The alcohol is very expensive! We paid 70 euro for 3 liters of beer in Chinatown.
In Bali, the local food is cheap wherever you go, between 30k and 80k IDR (2 – 5 eur0). The European food is more expensive, in some places a pizza can get to 10-12 euro. It all depends on the place where you decide to eat!
In comparison to the other countries in South East Asia, the alcohol is more expensive in Bali. A beer starts from 2-4 euro, but can get to 5 euro in a bar. A cocktail is around 4-5 euro (1+1 for Happy Hour), but can be 12 euro in club.
Traditional food in Bali
A delicious fruit bowl
Prices. Total. 
In comparison to other countries in South East Asia, I found Bali quite expensive. That's because the tourism exploded in the last years and a lot of people moved to Bali and spend more money than the locals.
Plane ticket 1 (Europe – Asia) : 360 euro
Plane ticket 2 (Singapore – Bali) : 100 euro
Accommodation : 200 euro
Local transportation Singapore and Bali (taxis, boat, shuttle): 100 euro
Three tours in Bali: 30 euro
Other expenses (food, outgoing, souvenirs): 900 euro
TOTAL for two weeks: around 1700 euro
[:]
Comments
comments