[:ro]I would like to start this year-end retrospective article by wishing you a Happy New Year, filled with unforgettable travels, wonderful places and great friendships!
Even if this year I wasn't as active on the blog as I had planned to be, I am glad that I kept my promise and translated almost every article into English. And now, I invite you to join me in a trip down memory lane that starts with some figures for 2019:
I visited 10 countries, of which 5 new countries
I took 20 planes
I wrote 17 articles  – that's not enough, I know
My website had 39.000 visitors
borderless.ro registered 122.000 visits in the last 365 days
Zell am See, Austria
Just like last year, I started 2019 on the slopes in Austria. I used to hate January and February but since I've learnt a winter sport, I can't wait to have some snow and go snowboarding. My first article this year was about our adventures on the way to Austria.
Strasbourg, France
Every time I visit Strasbourg, I wonder how pretty this city is! Alsace is for sure one of the most beautiful regions in France or even Europe. Alsace is worth visiting both during summer and winter, when all the cities and villages look straight out of fairy tales. Christmas in Strasbourg is a fantasy and the proof stands here.
Copenhagen, Denmark
I am happy to thick Copenhagen on my 2019 resolution list. It was one of the cities that I wanted to visit really badly this year. I traveled to the Danish capital in March (via Malmo, Sweden) and I found it exactly how I expected it to be : colourful, modern, with happy people, but cold and windy. We got lucky after two days when the sun came out and we could visit the city by bike.
Moscow and St. Petersburg, Russia
One of this year's highlights was the trip to Russia – a country that must be visited at least once in a lifetime! Russia is a country rich in history, culture and art. Unfortunately, we spent only three days in Moscow, respectively St. Petersburg, and we tried to see as much as possible. But there's definitely a lot more to see and do, so if you think about visiting Russia, book at least one week – 10 days for these two cities. I wrote about how I planned to trip to Russia here, about Moscow here and about Saint Petersburg here.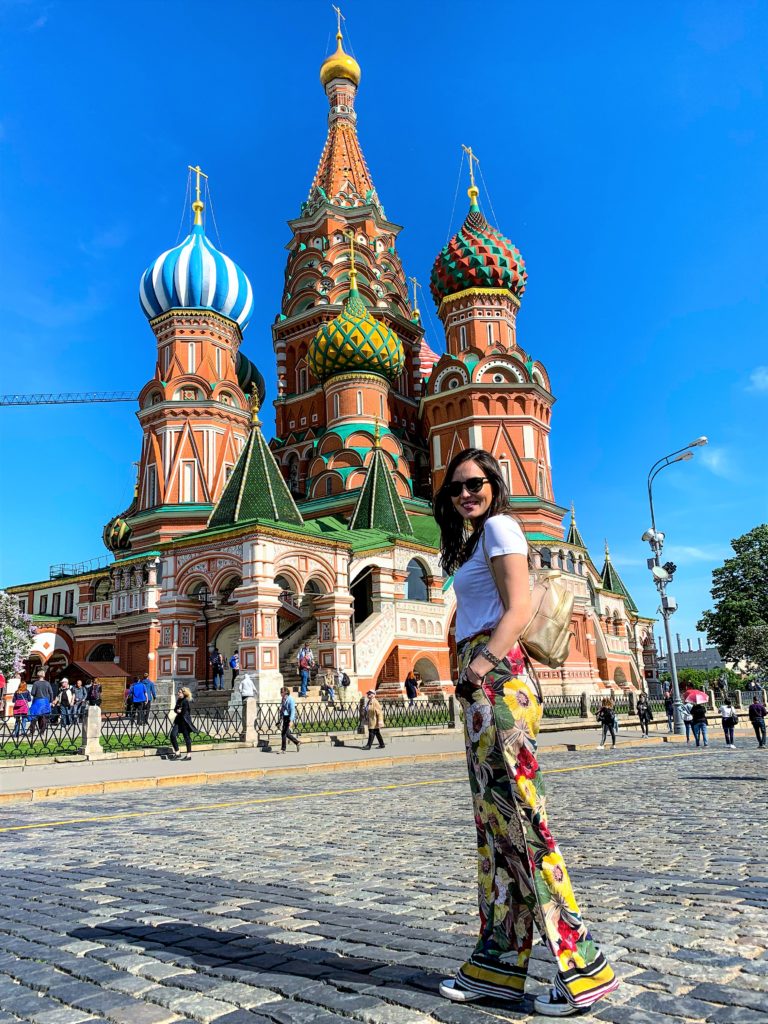 Metro stations in Russia
Tuscany, Italy
This year, in our annual girls trip (you can read about the rest here and here), we chose to visit Tuscany, considered by many the most beautiful region in Italy. For a perfect vacation in Tuscany, just like ours 🙂 , I compiled a list of 10 things to do.
Istanbul, Turkey
Istanbul is the second city that I am happy to cut off my wish list for 2019. Istanbul is a fascinating city, a mix of palaces, mosques, narrow street, wide boulevards, shops, bazaars and y favourite part: many boats and a breathtaking sunset on Bosphorus strait.
Singapore
Singapore is a wealthy island city-state in South-East Asia that I am sure all of you have heard so many stories of. Singapore is well-known for being one of the most expensive cities in the world, for its rapid and huge economical development, but also for its clean and green streets. More than this, the state has a global reputation for strict laws and fines. For me, Singapore was something else, a place that teaches everyone a lesson, even a simple tourist.
Bali, Indonesia
Thanks to its perfect weather, luxuriant vegetation, clean waters and ways of entertainment, Bali became a magnet for tourists from all over the world. It's not only the places and the nature that make Bali special, but the people who are always friendly, happy and eager to get to know you and the country you come from. Bali is not a place, but rather an experience.
Munich, Germany
During the winter holidays, all the big squares in Germany turn into magical Christmas markets that become popular meeting places for every German citizen! They're all full of coworkers, friends, families who shop, drink Gluhwein and eat traditional food.
Romania
In the last years, I traveled more and more in Romania and my bucket list is getting longer and longer. Which is a great thing! I am happy to see that the local tourism develops and new beautiful places appear. Among these places, I'd mention Cincsor and Valea Verde, two guest houses that changed the rural tourism. Some other places that I keep going back to are the mountain ski resorts in the Carpathians and the Black Sea.
 Poiana Brașov, Straja
Sighișoara
Cincșor
Valea Verde, Cund
Vama Veche
2020
Next year my main focus will be on some personal projects, so I didn't make big plans for traveling. But I hope 2020 will surprise me and I'll get to visit some new places!
But until then, than you for following me around the world!
R.
[:]
Comments
comments