[:ro]
Singapore's name comes from 'Singa Pura' which means Lion City in Sanskrit. In folklore it is said that a Sumatran prince who was hiding on the island after a storm, saw a lion which is called 'Singa' in Sanskrit. Thus he gave the island a new name, 'Singapura', the Lion City.
Short description
Singapore is an island city-state in Southeast Asia. About 5.6 million people live and work within 700 square kilometers, making Singapore the second-most-densely populated country in the world after Monaco.
Singapore has a multi-ethnic society, therefore the government recognizes four official languages: English, Malay, Mandarin, and Tamil. Due to the Singapore's history, who was part of Malaysia, the symbolic national language is Malay.
Top 10 things and places that impressed me 
1. Asian tiger 
Between the early 1960s and 1990s, Singapore underwent rapid industrialization and maintained exceptionally high growth rates. By the early 21st century, Singapore has become one of the leading international financial centers and together with Taiwan, Hong Kong and South Korea, they form the four Asian Tigers. Singapore has the fourth GDP in the world and the highest percentage of millionaires: 17% of the population has an estimated fortune of more than 1 million euro.
2. Changi Airport
Once in Singapore, everyone should experience Changi Airport, voted world's best airport for seven years in a row. The airport is a destination in itself and is far from what we normally think of as an airport. It hosts various gardens with cactus, orchid, butterflies, high-tech trees, a pool, a mystical paradise garden with the highest indoor waterfall.
The Jewel
Free massage chairs – my favourite place in the entire airport
3. Marina Bay Sands
Marina Bay Sands is Singapore's most iconic hotel. It was built in 2010 and became famous for its architecture: three tall towers connected by a garden with an infinity pool. Some people visit Singapore just to spend a night here and swim in one of the world's most stunning rooftop pools. To do that, you must sleep one night at the hotel and a double room starts from 300 euro. The ArtScience Museum, located in front of the hotel, is the world's first museum that focuses mainly on art and science.
4. Green spaces
Even if Singapore is small, dense, and 100% of the population is urbanized, yet it is the greenest city in Asia. There are many parks, vertical gardens, sport fields, forests. The Botanical Garden from Singapore is part of the UNESCO World Heritage, and the ZOO is one of the most appreciated in the world. They even have a day dedicated to planting trees.
5. Gardens Bay
Gardens by the Bay is a huge, colorful, futuristic park in the bay area of Singapore. The entrance is free, but if you want to see and experience the flora and fauna of almost the entire Earth in its domes, you must pay a fee. The solar trees are for sure the most outstanding constructions in the park. They were built to clean the air, but became one of Singapore's main attractions.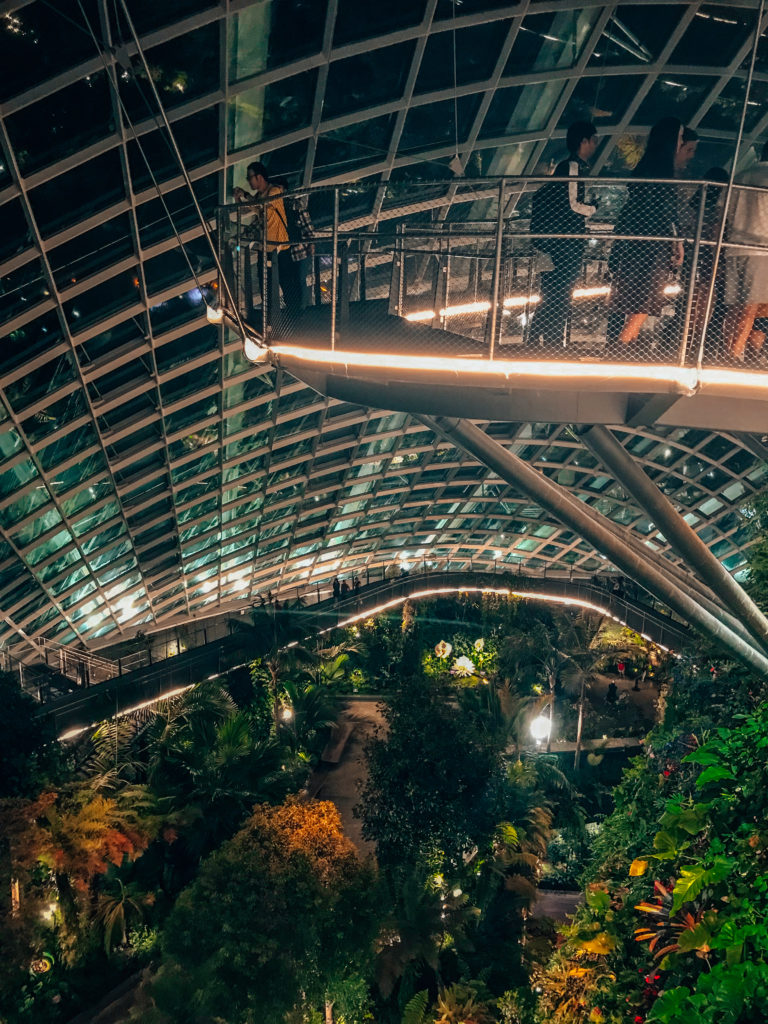 6. China Town
Among the modern, futuristic buildings in Singapore, Chinatown still has its special place. It is the only Chinatown in the world to boast a Buddhist temple, a mosque and a Hindu temple along a single street. When there, you should pay a visit to the Buddha Tooth Relic Temple & Museum.
Singapore has one of the most renowned street food scenes in the world; two of its hawker stalls have earned Michelin stars. A hawker in the Singapore context is someone who sells food. In the old days, this was from a roadside stall or a pushcart. Going back to our trip, what I wanted to do the most in Singapore was to eat at Hawker Chan, one of the two Michelin-star hawkers. Unfortunately, we arrived on Sunday and the stall was closed. If you get there, make sure to check the restaurant across the street as well. Hawker Chan opened a simple restaurant after he earned his Michelin star.
7. Clarke Quay
Clarke Quay is located in the city's traditional center on the banks of the Singapore River. It is a nice place during that undergoes a transformation at night when its famous nightclubs, pubs and restaurants come alive.
First picture in Singapore
8. Central Perk Cafe
For a huge Friends fan (that's me), it was one of the trip's highlight when we went to the Central Perk coffee house in Singapore. It replicates the coffee place where the Friends show's characters were often seen hanging together. There are pieces of Rachel, Monica, Phoebe, Joey, Chandler, and Ross found all around. Some iconic features include Monica's kitchen, Rachel's runaway wedding dress, Phoebe's cat (found in the guitar case), Chandler and Joey's fussball table. This is the only cafe outside of the United States that has been granted the intellectual property rights by Warner Brothers.
9. Cleanliness. Discipline. 
Singapore is one of the least corrupted countries in the world and this is due to strict rules and punishments. For example, chewing gum is banned in Singapore, except for therapeutic, dental, or nicotine chewing gum, which can be bought from a doctor or registered pharmacist. If you throw garbage on the street, if you don't flush in public spaces, you might get a fee. Drug possession in Singapore is a serious crime. It can lead to long-term imprisonment or even facing the death penalty. Because of so many rules, people are disciplined and the streets are very clean.
The sidewalks are covered to protect people from sun or rain
Attention to details
10. Prices
Singapore is considerably more expensive than other cities in Southeast Asia, but it is still cheaper than many Western cities. There are many hostels in the city, especially Chinatown, where you can stay for cheap. Food is also quite cheap in Chinatown and in malls. There are of course fancy restaurants where you'd pay a ton of money for a good meal. Transportation is not expensive at all – we traveled all the time by Grab. Buying and maintaining a vehicle in Singapore is an expensive luxury due to limited road space.
All in all, Singapore is a muse-see in Asia. I loved every piece of it! Have you traveled to Singapore? What did you like the most?[:]
Comments
comments